Valbona Valley - Lake Koman
Valbona Valley National Park has an area of 8000 ha and is considered the miracle of the Albanian Alps.
It is located 25-30 km north-west of the city of Bajram Curri. It lies between high, steep hills covered with a fantastic color tint in every season, giving the image of a valley full of labyrinths and infinity. Let's start the adventure.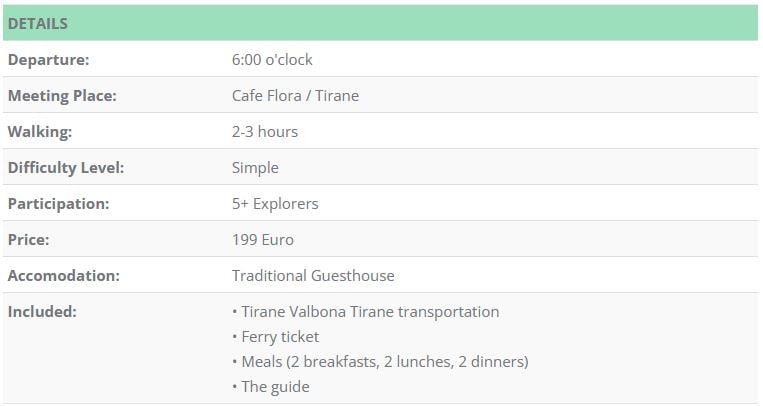 Day 1
Our adventure starts from Tirana. Once we are ready is the moment to go and visit the magic valley. Our first stop will be 20-30 minutes for a quick coffee break .During the road we will have another stop in Prizren, where we have time to visit the city and eat lunch, enjoying the traditional food.
We continue our road towards Valbona Valley and once we arrive we accommodate in the Guesthouse and consume dinner with traditional dishes of the zone.
Day 2
We wake up between the quietness and the fresh air. Around 09:00 am breakfast is consumed so we can gain as munch energy as we can to continue the day. At 09: 00-09:15 we head towards the Waterfall to see all the miracles of the area from above. The path along the way to the Waterfall is in the shadow of the stunning Ahu trees making our march more enjoyable.
After we have enjoyed the nature that Valbona offers we return to the rest and enjoy an abundant lunch with the traditional dishes of the area. We make a walk around the park and in the evening, dinner and then again a night full of fun.
Day 3
The sun that falls on the balcony, the tops of the mountains that look out of the window give the impression of a picture, the quietness of the place give us a wonderful glimpse of a desire not to wake up, but another wonderful day expects us. At 08:10, breakfast is consumed with bio zone products.
We prepare to visit the village and its beauties such as: Xhema Lake, Old Mill, The forest near the lake, The village center, the school, not forgetting to mention its beautiful river and so on. It is now time to sail through Lake Koman. In Fierze we have to be at 12.30 to set off for about 3 hours between the tranquility and the freshness that characterize the Lake.
We reach in Koman and accommodate in the van. During the drive back we stop atVau Dejes for a coffee break (20-30 min) afterwards we depart in Tirane.
Arrival around 21:00, all satisfied and with the best impressions from our trip.