Vacations in south Albania
"My Riviera" Tour gives you the possibility to experience adrenaline and create endless memories as we visit the most beautiful beach bays in Albania: Grama Bay, Gjipe, Drymades, Dhermi, Shen Andrea, Jal, Aquarium, Pasqyrat, Shen Jan, Shen Vasil, Ksamil, Haxhi Ali Cave, Cave of Pigeons, The Blue Cave, Shen Andrea Cave and Sazan Island.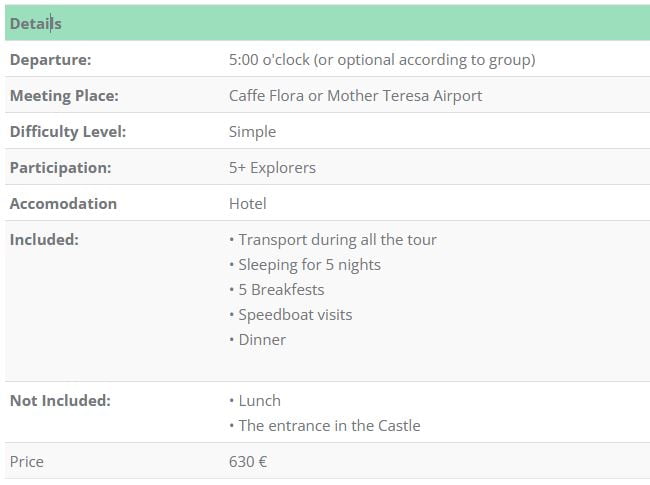 Day 1
We depart from Tirana or Mother Teresa Airport (optional) at 6:00 o'clock and during the road stop for a short coffe break. After the break we drive towards "Blue Eyes" one of the most beatiful destinations of South Albania where we have the possibility to enjoy the nature beauty and eat lunch.
Day 2
After breakfest at 8:00-8:30 the second day reseves us a speedboat ride accross Three Islands in Ksamil, we stop for a beach day at one of the bays and enjoy lunch in Ksamil (optional), we have time to rest on the beach after lunch and then we go to visit Butrint, to get to know some of the Albanian History. After this beautiful visit we return in the hotel to rest and enjoy the dinner.
Day 3
we wake up and enjoy another breakfest and then we sled towards Dhermi, during this short trip we will be able to visit: The Pirates Cave, The Pigeons Cave, Jal and The Aquarium Bay and then we stop and beach in Gjipe. After the beach we accomodate in a hotel in Dhermi, eat dinner and drive toward Drymades for a festing evening.
Day 4
This morning after breakfest we have also a speedboat ride where we visit other wonderful beaches such as: Drymades, Palace, Shen Andrea Bay and Grama Bay where we stop for more hours for beaching, free time and dinner and then we enjoy another night with music and drinks (optional).
Day 5
Breakfest at hotel and we drive towards Vlore. for this day we have prepared a speedboat visit in Caraburun, Sazan Island, Shen Vasili Bay, Shen Jani Bay, Zhabovel and the famous cave of Haxhi Ali. We stop for some hours in one of Caraburun bays and then around 17:00 we return back to vlore, we accomodate at the hotel and then we have a free evening or we can organize a festive evning according to the group decision.
Day 6
After breakfest it's time to learn some history. We drive towards Kanina Castle in Vlore and Zverneci Monastery, after the visit in this two historical places we have time for lunch and then we drive back to Tirana, during the road we will stop for a short coffee break and then we arrive in Tirana with the best impressions from the journey.
What to have with you??
Beach Suits, Sun Cream, Hats, Sandals, Sneakers, Backpacks and of Course your smile.